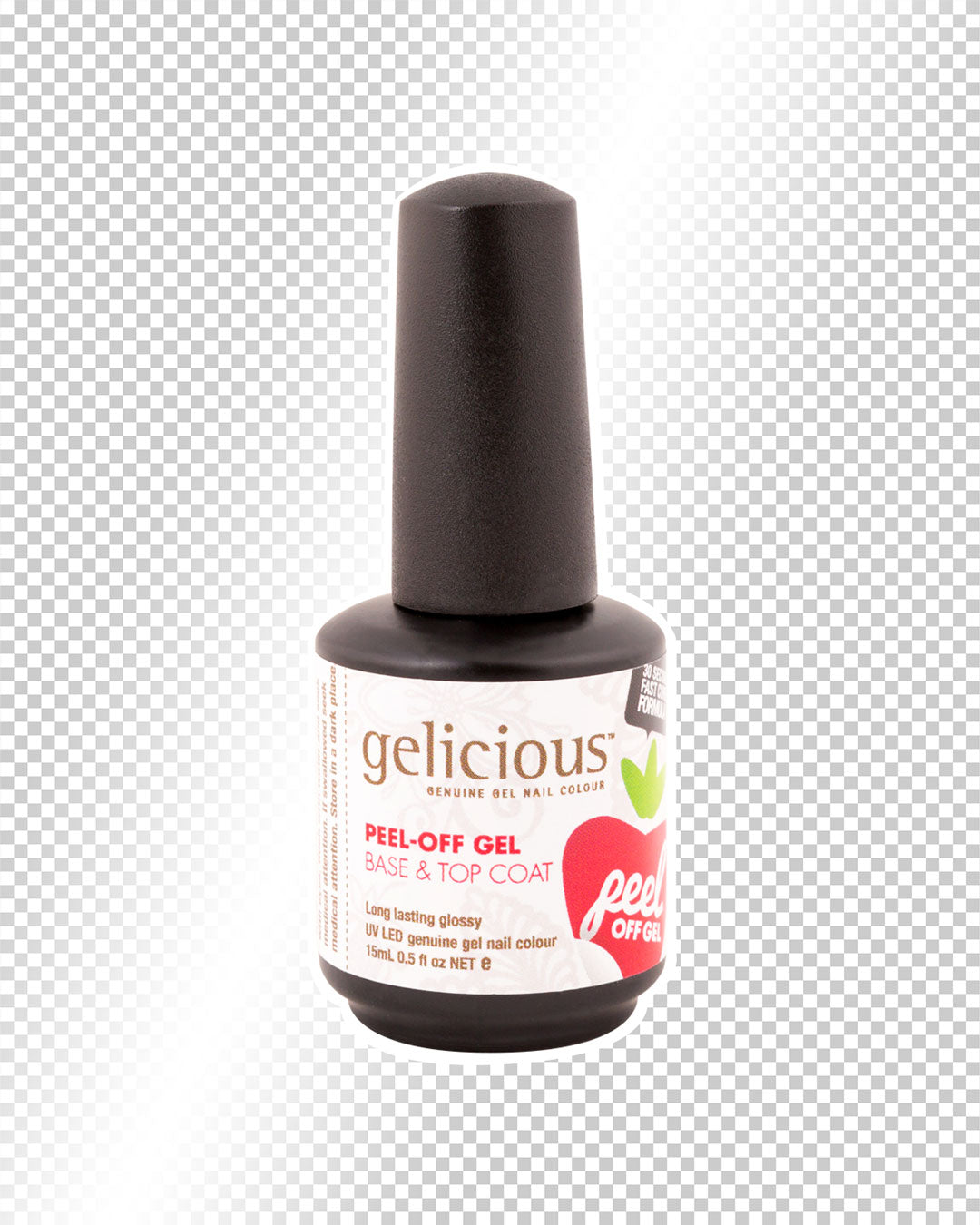 Gelicious Peel-Off Gel Base & Top Coat
You are going to LOVE our latest innovaton! geliciousTM is always first with the great products a combined instant-dry, base and top coat gel lasts a genuine 10-14 days simply peel-off to removel! This will change your life!
NEW geliciousTM PEEL-OFF GEL seals in your favourite colour and creates a protective base and top layer to make your gelicious nails really last and easy to peel off when you are ready for the next amazing colour! This new formula has even longer lasting results than before!  Once you have tried it, you will never go back to a soaking-off in acetone or an inferior 'gel-like' nail polish ever again! Love, love, love!
See our 5 star Reviews and Video tabs above.
 ARE YOU NEW TO GELICIOUS? The most efficient way to buy gelicious is in a Starter Kit check out our gorgeous colours!
Get Started With Gel Nails You Can Apply Easily At Home Without The Complicated Removal And Expense Of Going To The Salon!
INSTANT DRY
LASTS 10-14 DAYS
NEW! EASY PEEL-OFF REMOVAL
GENUINE GEL FORMULA
HIGH SHINE SALON FINISH
ONE BOTTLE LASTS 40 MANICURES!
Each gelicious Starter Kit comes with the colour of your choice. Choose Now >
9-Free Goodness, Cruelty-Free And Odour-Free
gelicious is proud to be free of Formaldehyde, Formaldehyde resin, Tuolene, camphor, xylene, ethyl tosylamide, parabens, acetone and Dibutyl Phthalate (DBP) – which means no nasty nail polish smell. All gelicious products are cruelty-free.
Ingredients list: Eurethane acrylate oligomer, Hydroxy2-Methyl-4'-(Methylthio)-2-Morpholinopropiophenone, 2,4-Diethyl-9H-Thioxanthen-9-One, 2Benzyl-2-Dimethylamino-4-Morpholinobutyrophenone. 
*** Important: Do not apply directly after nail polish remover has been used. If you have recently used nail polish remover it is best to allow a day for your nails to recover their natural oils to ensure peeling leaves nails in the best condition. if you can't wait (heavens, we understand!) moisturise well and wash hands before applying to clean, dry nails. NOT SUITABLE FOR METHACRYLATE ALLERGIES***